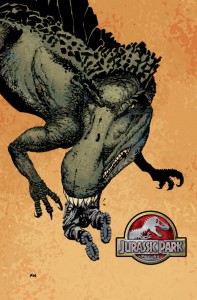 Hey Paleoposse,
I'm gonna level with ya, this one is a bit of cheat but it's still worth reading. I wrote a review of the comic Jurassic Park Redemption #1 that went up this morning over at iFanboy.com. If you want something more directly Science… sort of check out my post from Monday, Another Manic Monday: How the Sausage is Made. Hope you enjoy a bit of comics! It is Wednesday after all…
Exert: I've avoided doing a "this is who I am" kind of post because that'd be dull and no one cares; however, who I am is relevant to this post, for I am a paleontologist. I also love Jurassic Park. The inaccuracies don't detract from how much fun that movie is. Jurassic Park Redemption #1 is IDW's attempt to take us back to this lost world and find out just what happened after Dr. Hammond himself went extinct.
Read the full review over at iFanboy.com!

Related Media:
Jurassic Park
Socks n Socks-Men's 5-pair Luxury Cotton Science Funny Cool Socks Gift Box