Happy Friday once again, PaleoPosse!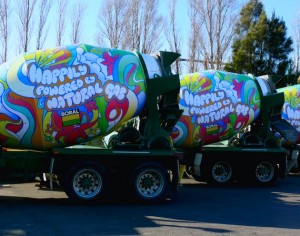 Well, Ryan's at TAM 8, rubbing elbows with the best-of-the-best in the scientific/skeptical universe. So its your buddy Jacob here again, filling you in on the latest bits of news we all found interesting this week.
Patrick:
Slate contributor, Sam Kean has a book out about the periodic table, riviting stuff, I know. Anyway, he is blogging about several of the elements for Slate and you can read about them for free. http://www.slate.com/id/2258112/entry/2258111/?from=rss
Ben:
hey. how come, back in the day, everyone had saber teeth? it seems like it was common? was it because animals didn't know how wide their throats were, and so needed a gauge? maybe the primary prey for everythings were giant, meaty pneumatic tires? I don't know, i'm just a simple country physicist.
http://www.abc.net.au/news/stories/2010/07/08/2947710.htm
Ryan:
A really cool picture of Saturn from a really cool satellite being talked about on a really cool blog. Having just met Phil Plait here at TAM 8 I couldn't help but link to his site.
http://blogs.discovermagazine.com/badastronomy/2010/07/08/saturns-gorgeous-gray-mood/?utm_source=feedburner&utm_medium=feed&utm_campaign=Feed:+BadAstronomyBlog+(Bad+Astronomy)
Jacob:
Pic related! Dutch scientists have created a way to make cement with a mixture of Titanium Dioxide, which acts a catalyst to convert the pollutant NO2 from the air and convert it to harmless nitrates.  Their preliminary tests show as 25-45% decrease in the amount of pollutants present in the paved areas!
http://greenopolis.com/goblog/jerryjamesstone/scientists-make-air-purifying-cement-cuts-emissions-45
Lets hope they do some full life-cycle studies to make sure it's safe, and get this out ASAP!