Following in Ryan's footsteps, I thought I would let my ego come out to play today. ;-) I'll start by assuming that you're all wildly interested in my day-to-day life.
As you probably know from listening to the show, I work in the defense industry (though I shouldn't say which company) which means that I work in a cubicle farm, staring at computer screen with Excel spreadsheets, manuals, and drawings, while scrawling calculations on scratch paper, all day long.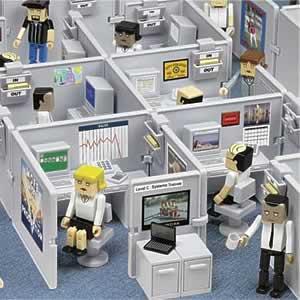 Exactly like this, except in a 1980's color scheme, and slower computers
I know what you're thinking… "How do you survive working in a cubicle farm for 9, 10, 11 hours per day?"
Well, thankfully, I have access to a myriad of wonderful podcasts like Science… Sort Of, and today I thought I'd give you a quick list of my favorite podcasts that keep me just distracted enough to forget that I spend more time at work than I do at home.
Obviously, the first podcast I check for updates is Science…Sort Of.  I'm not on many episodes, so most episodes are still a complete surprise for me!
** NOTE: I'm writing this post while at work, so I haven't had time to add links or pictures.  I'll add them as soon as I get home, but for the most part you should be able to just google 'em. **
The next podcast I check for though, is Skeptics Guide to the Universe. 

After hearing the host, Dr. Steven Novella, on one of the early SSO episodes, I started listening to the SGU and have been a faithful listener since.  Their format is very similar to SSO, except there's a lot more nepotism involved, as more than half of the hosts are brothers of the Novella clan.  But that's ok, because they each bring something unique and valuable to the table, and their dynamic is highly addictive and fun without seeming like they're bullshitting their talking points.  These guys KNOW what they are talking about!  If you aren't already a fan, you should check them out.
Next I switch gears to gaming and listen to G4TV's Feedback podcast, which is an hour-long video podcast about the game industry, hosted by Adam Sessler and his pack of geeky, game-reviewing sidekicks. 


Thanks to G4's genius idea to make this podcast video-only (even though it's recorded in a radio studio), this podcast is single-handedly responsible for my need to keep my unlimited 3G data plan from AT&T.  Don't get me wrong, this podcast is AWESOME and is always fun and hilarious, but if you're thinking about checking it out, just make sure to download it over WiFi or from home.
Eventually, I come to my senses and realize that video games are for kids, and I'm an adult, and I need to go adjust my 401K distribution to reflect my lack of confidence in Emerging Market funds for the next 2 quarters… and then I get frustrated with the lack of SCIENCE involved in the stock market, and go find an episode of Skeptoid, hosted by Paleo-Friend Brian Dunning, for a short-sweet-smackdown on a random pseudo-scientific topic.

Skeptoid is great because it usually provides you with all the facts needed to counter any argument provided by someone in support of astrology, homeopathic medicine, ghost hunter, etc…, without getting TOO pompous (although, let's be honest, a little pompous :-P)
The newest addition to my podcast list is The Nerdist, hosted by my own personal man-crush, Chris Hardwick.

The Nerdist, although being relatively new to the podcast scene, is very high-profile as Chris Hardwick has been rubbing elbows with Hollywood types since his early days on MTV's "Singled Out".  He uses this clout to bring on some hilarious high-profile guests, such as Weird Al, Adam Savage, and Craig Ferguson.  The podcast usually progresses over the course of an hour or so to be a wild donkey ride of side-bars, digressions, and anecdotes.  WARNING: If you listen to this podcast at work, you WILL need to cover your mouth to keep your coworkers from hearing you LOL-ing.
Those are pretty much the only ones that I'm faithful to.  If, by the end of the week, I've gone through these main 5 podcasts and I still need some distraction, I'll hit up one or more of the following:
So what about you, PaleoPosse?  What other podcasts do you frequent on the interwebs?  I'd really like to hear your selection!
Let me know in the comments!