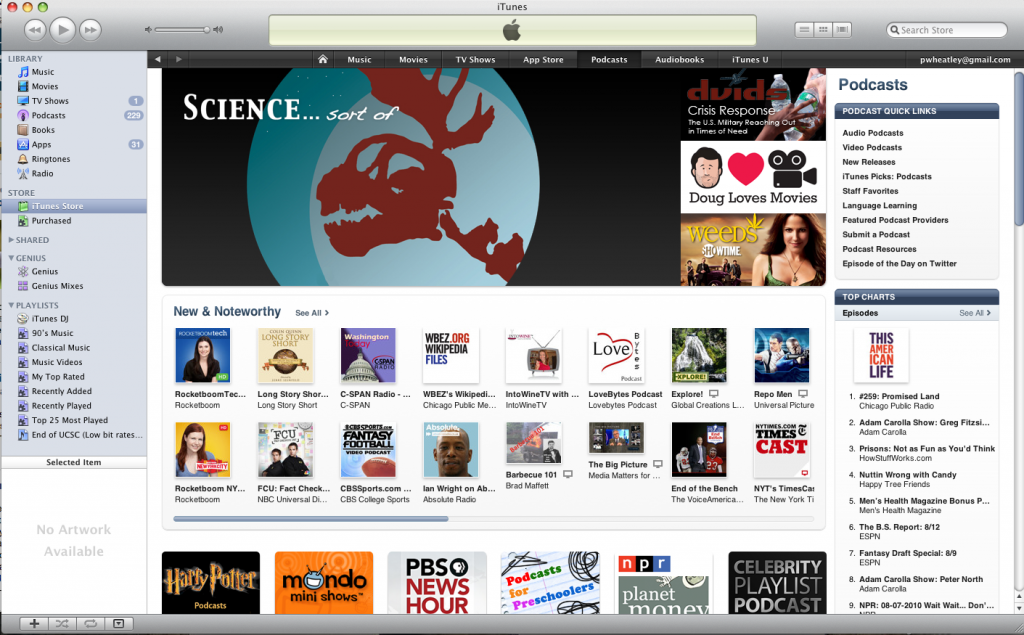 Intro:
It can be hard to talk to your friends about podcasting. There's new lingo, you're really excited by something they don't understand, and you're asking them to undertake a new step in their daily ritual that they might not be ready for. With that in mind I've put together a quick step-by-step list to help you get that friend or loved one on the road to audio bliss.
And between you and me: This is the week to do it. We're featured on the main page, making us that much easier to find and enjoy!
1) Explain what a podcast is.
Make sure they know it's not something you pay for, that it's basically radio on demand, and that it's not a religion. No Science… sort of cult… yet.
2) Show them how to get it.
This is the hardest step of all. Don't try to do this one remotely. Just go over to their house and sit them down at their computer. If they don't have iTunes suggest they get it (some people really hate iTunes so that may not work) and by suggest I mean sit there and install it with them. Then get them to the iTunes store (fingers crossed they have an account, cause if they don't and have to create one you'll lose a lot of credibility with the "free" claim). Click on the "Podcast" page and get them to forcibly subscribe to a few shows that they might like. Then you have to set up their mp3 player to actually sync the shows such that they may listen.
3) Repeat step #2 roughly 7 or 8 times until they actually remember it.
I hate to say this, but I can almost promise that everything you showed them will get undone, forgotten or otherwise screwed up. You're going to have to go through step 2 a few more times until they understand it themselves. Podcasting is not an easy disease to transmit.
Conclusion:
Does this sound like a lot of work? It is. It's one of the great failings of podcasts. They take a lot of initial energy on the part of the listener and that's really a shame. We all would prefer as easier way to get our content to your ears but as they exist right now the only people who are listening to podcasts are those that already know how. So instead of helping that old lady with her groceries, make you good deed today one of sharing the gift of a podcast with a friend, whether they want it or not…
Related Media:
BEHRINGER PODCASTUDIO USB
NPR Podcasts