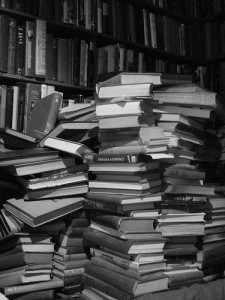 This probably won't surprise anyone, but I'm the kind of person who has trouble slowing down. I'm constantly working on something, trying to accomplish a task, achieve a goal, etc. I am the spinner of many plates, and one thing these many modes require is a lot of reading. I've always love reading so it's not a big deal but I used to just crank through books one after another in no time. Now my various literature needs make that impossible. I would love to include some images of my 'stack' but it's a bit too amorphous, spread out and embarrassing. However, you're not without recourse because I am on goodreads. Yup, you think we cover all our social networking bases on the show? BAH! There is always another!
Goodreads is pretty cool. It has a huge database of books that you can go and pick from. You mark books as read, have read, and to-read. Then connect up with your friends. It's the ultimate reading guilt trip. You can't ignore your stack when everyone is watching. Your stack becomes that kid in the supermarket screaming for a toy: we all know the kid is just acting out, but how do you not look at the parent and shake your head? Obviously, I don't mind an audience so I really enjoy goodreads, and it's cool getting comments from friends when you hate a book they love or whatever. With that in mind, my stack is out of control, but there's good reason for it. I really need four stacks (I'm almost positive goodreads contains this functionality, but then what would I write about?!) so I can justify each size on it's own merits and not feel so bad at the expense of the whole.
Also I should include a quick note about my "to-read" stack. I don't add a book until I physically have it in my possession, if I put up every book I wanted to read in my lifetime I'd end up dead holding the mouse in my clenched hand having read NOTHING!
But I digress…
Stack 1: The Work/School Stack
I'm still actively in school, I get paid so I call it work when I wanna sound like an adult but either way I have a lot of reading to do. This stack is tricky because sometimes I'm only required to read bits and pieces of books which I still usually add to goodreads but then feel obligated to finish before removing them. It's a vicious cycle and I'm sure some of those books will be there for years…
Stack 2: The Show Stack (Not to be confused with Seth)
I love doing interviews on the podcast, and sometimes you can wing it, but you probably shouldn't. Much better to be prepared and that job takes some reading. So at this point I have an entire stack dedicated to future guests. This stack almost discourages me from creating publicly differentiated stacks, cause then it might spoil future shows. Thoughts?
Stack 3: The Comic Stack
I write about comics for iFanboy, so I need to keep up with the funnybooks. I don't do a very good job but I do try. I know comics are a medium, not a genre, yadda yadda yadda, but I do get a very different reading experience from a comic versus "real" book, so they get there own stack.
Stack 4: The Pleasure Stack
*sigh* This is easily the least active stack. I do enjoy most of the reading I do from the other stacks, but reading is part of what gets me paid at this point, and there often just aren't enough hours in the day to keep up with the other three stacks to ever make it down here. I will one day though. Charlie calls this attitude "horizon syndrome" because you're always heading towards the horizon but you never actually get there. So I should probably say "One day I'll make the time." but that really isn't all that much better.
This doesn't even include all the scientific papers and online stuff I read every day too. Regardless, I invite you come and connect with me over at goodreads. It gives a whole new meaning to "guilty pleasure" but I still like it and I like the motivation it gives me to keep turning those pages every day.
So tell me Paleoposse, what's on your stack?