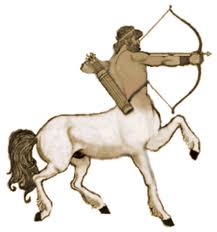 So here's my problem with Centaurs, and really Unicorns too but I had to pick just one: They live in the forest. Have you ever seen a horse in the woods? No, you haven't. Unless you made it go into the woods by riding it around. But you didn't bump into a herd of wild horses while you were doing that.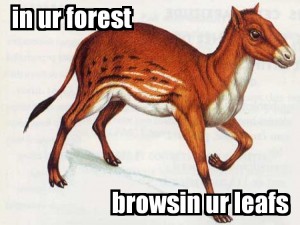 They used to live there millions of years ago, but they looked like cats with hooves. This was before such a thing as "grasslands" really existed. So horses were tiny forest browsers, not large grass grazers. In ecology there actually is a distinction between browsing and grazing. Browsers eat leaves and tasty stuff like that, grazers eat stupid grass. A pedantic note I just corrected in a Wikipedia article, my first edit ever! But the point is in the forest being small worked out cause they could hide and move easily through dense vegetation. What were they hiding from? Terror birds. Yup, birds of terror. You'd be hiding too. Remember, birds are just feathery dinosaurs and if a chicken could eat you, it would.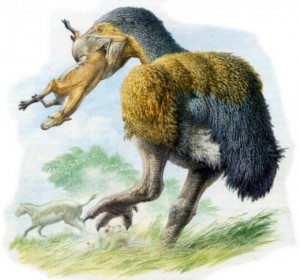 Well like I said there weren't really grasslands, until there were about 18 – 15 million years ago. Its call the Miocene Grassland Expansion, and to ecologists it's kind of a big deal. The world got a bit hotter and bit dryer, so lush forest because arid savannah. Suddenly being small and slow don't work so good. So you get tall enough to see over said grass, you get toothy enough to eat said grass, and you get long legged enough to hoof it through said grass.
Plus there's the whole herd mentality. It's hard having a herd in the forest, I'm honestly not sure if the dawn horse (awesome common name for the hyracotherium) lived communally or not, but if it did there's no way they existed in such large groups as you're likely to find among modern plain-dwellers.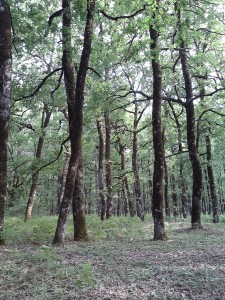 Back to Centaurs, what's my problem exactly? Well my problem is there's no way those guys live in forests (FUN FACT: All centaurs are guys, the females are Centaurides) because they're too big, especially in a group. Why are they said to live there then? I have two thoughts. 1) Forests are dark foreboding places and are exotic if only because 2) we as human beings evolved in grasslands. That's our home turf. And you can see for a ways in a grassland, at least you hope you can see, but there's probably a hungry lion waiting for you. I honestly think that's the reason so many stories of myth involve the forest in the first place. It's easy to access, but still mysterious, tough to navigate and there are plenty of places for scary stuff to hide.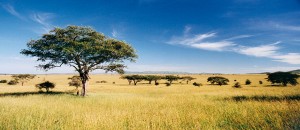 If there really were centaurs (are there people out there claiming there are? Probably, people is weird) then we'd see them all over the place cause they'd be out running with the pronghorns. Charlie would probably befriend one, for he is a friend to all animals.
Finally, I leave you with a clip of another reason to have a problem with centaurs. Enjoy!
Centaur Job Interview with Christopher Walken
Related Media:
Dawn Horse: Eohippus (Graphic Prehistoric Animals)
Evolution