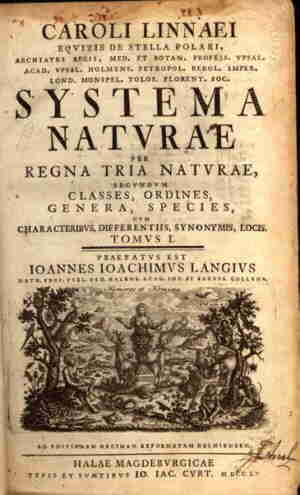 Remember the Linnaean system of classification you probably learned in grade school or high school (heck, maybe even college)? It went something like this…
Kingdom -> Phylum -> Class -> Order -> Family -> Genus-> Species
Linnaeus started using this classification system in the 1700s and he had a good run; we still use his system in certain situations. However, we've moved away from this ranking system mostly because of the discovery of transitional fossils that screwed with Linnaeus's idea of neat little boxes for all of life to be categorized into. This system falls apart, for example when you have two equivalent ranks, let's say class Osteichtyes (boney fish) and class Amphibia (amphibians), and find a transition between the two.
In the case of our example, let's say we find a transitional fossil like Tiktaalik with both fish and amphibian characteristics. Now what? Does this thing belong to class Osteichtyes or class Amphibia? Which box do we put it into? For reasons like this, most modern evolutionary biologists prefer to organize species on a diagram called a cladogram. These take a little getting used to but once you understand them, they give a person a much better sense of how evolution is actually operating.
Cladograms are braching diagrams where each branch represents an evolutionary lineage.We put the names of specific taxa at the end of each branch and we put the names of groups to which those taxa belong at the intersection of branches (nodes). Check out the example below that uses mammals.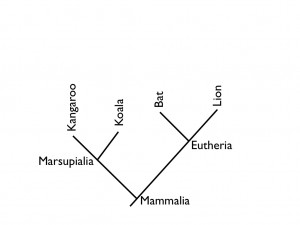 The diagram doesn't really have axes, but implied in the x direction is some sort of evolutionary distance from each other and implied in the y direction is relative time (the first branch at the bottom happened long ago the latter branches higher up happened more recently). This diagram tells you that all the animals listed are mammals (see the group name Mammalia at the bottommost node). The koala and kangaroo are more closely related to one another than to anything else on the diagram. Their branches intersect each other before they intersect any other lineage. This indicates that they diverged from each other more recently than they diverged from any of the other animals on the diagram. Furthermore, they both belong to the group Marsupialia. Similarly, the bat and the lion are more closely related to each other than they are to either of the marsupials. They are both placental mammals (eutherians).
Now lets try a slightly more complicated example…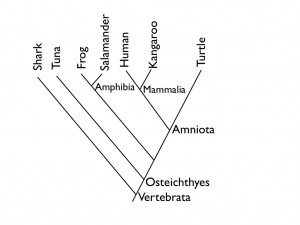 Here we can see some interesting relationships. Notice you (assuming you are a human) are more closely related to a turtle than you are to a frog (you and the turtle are both amniotes, part of the group Amniota). Now, as you work your way down the diagram things start to really get interesting. The tuna is more closely related to humans than it is to sharks. Surprising right? I know what your thinking "Is that really true?" Sure it is. See the distance between the 'Vertebrata' node and the 'Osteichtyes' node? That distance is shared evolution between humans and tunas that sharks don't share (they've already branched off). Put another way, this means that tunas and humans have a few extra million years of evolution in common that tunas and sharks don't. The fact that sharks and tunas both live in the ocean and kinda look a lot alike doesn't count for all that much.
As long as we are examining this diagram notice that the Linnaean ranks we used before as equivalent, Osteichthyes and Amphibia, are certainly not equivalent on this diagram. Amphibia is contained within Osteichthyes. In fact all land dwelling vertebrates are within Osteichthyes (this is why some evolutionary biologists are fond of saying we're all 'fish').
Now finally, I'll show you where Tiktaalik fits on the cladogram. It's closer to being an amphibian than to being a tuna, but then again it's just as close to being human as it is to being an amphibian.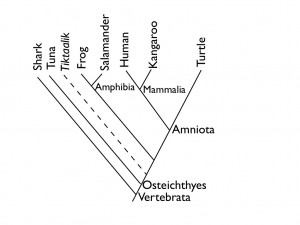 Update: If you want to read a sort of sequel to this post involving dinosaurs, you can check out this post.