Well, maybe it's actually a Japanese love affair…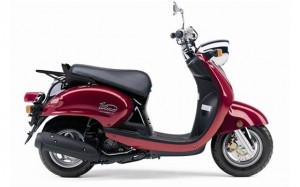 The Paleopals are a pretty eco-friendly bunch when it comes to commuting – Ryan is a pretty committed bicycle commuter, Charlie commutes about 35 miles partially by bike and partially by train. For much of the past seven years I either walked or bussed to work. In 2010 I moved to Berkeley, CA. I was a pretty good distance from a helpful bus line and the four miles to work was a little far to walk. I suppose I could try to bicycle it, but I flirted with that when I lived much closer to work and had less hills to deal with; it's not for me. I'd been considering buying an Italian style motor scooter (like a Vespa) for some time, so I took the plunge with a (Japanese) 2008 Yamaha Vino 125. By the time you read this I'll have put about 1000 commuting miles it.
I still feel pretty eco-friendly. My Yamaha Vino only holds ~1 gallon of gas and I only fill it up every one-and-a-half weeks or so. This works out to ~70 miles per gallon and my commute involves some pretty serious hills. But the gas mileage isn't the best part.
The best part is the parking. I work at a place where parking is limited and there are various levels of parking privileges. With a car you have to get in early just to find a parking spot and, unless you've worked there for years, you park a pretty good distance from the building you work. With my scooter, no matter what time of day I ride in, I roll right up to the closest door to my office and park.
As far as scooters go, I have to say I'm pretty happy with the Vino. It seems to have everything you need and nothing you don't. What does it have? As far as the control/instrument panel goes, it has a starter button, high/low headlight beam, an engine kill switch, a turn signal button, a horn, a speedometer/odometer, and a gas gauge. That last one is key, not all scooters have a gas gauge, meaning you have to shake the bike and listen to the sloshing to estimate how much gas is in the tank. The Vino also has kick-start capabilities – in case your battery is dead or the starter gives out. The final feature perk is that scooters, unlike motorcycles, have storage space built in – it's under the seat! The Vino 125 has enough storage to just be able to squeeze a full-face helmet in to it. Perfect for when you would like to run into a store or a seminar without toting your helmet along with you. Having some built in storage is also great for those last minute grocery store stops on your way home (oops, need to grab a beer for a Science… sort of recording session), or for picking up food from that takeout place that has no parking available. One feature that would be nice is a clock. I plan on fixing that with a $5 watch from a drugstore that I'll strap to the handlebars, one of these days.
When it comes to driving there are more benefits. In California, lane sharing is legal, meaning that a car and a motorcycle/scooter can share the same lane. The result is that as long as you aren't on the shoulder or in the bicycle lane, you can ride past stopped traffic to the front of the line at a stop sign or stoplight. I'm judicious in using this privilege, because even though it can really make that commute time drop, cars aren't always expecting you to be riding right next to them in the same lane. This brings us to the issue of safety. Everyone will tell you that a motorcycle or a scooter is a death trap. I fail to see how they are any more dangerous than bicycles. Most of the accidents result from you being run over by another motorist. The same is true for bicycles in traffic. This is because drivers of cars are used to looking for other cars, you on a bike or a motorcycle are not fitting their search image, and thus aren't "seen." At least on a scooter you have lights and a better helmet. True, it's possible you could be traveling faster on a scooter than on a bike. You definitely have to think harder about your own safety on a scooter than you would in a car, that's for sure.
My commute is only about 4 miles each way and doesn't involve a freeway. To me, this is a nearly ideal scooter commute. You'll have to judge your own situation and see if you think you'll benefit from upping your geek cred by scooting to work (also helps to have goggles and a scarf to complete your geeky counter culture image).