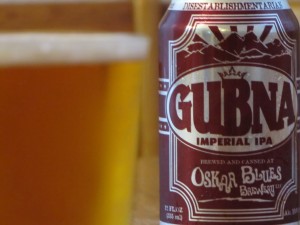 Per my previous post, I'm not gonna put beer reviews up on the blog for a while. If you're curious why, click-through the link. If you just wanna read my thoughts concerning an old favorite beer, continue on. As in my last post about beer, I'll be using the rating system devised by Beer Advocate, where this review was originally posted.
GUBNA
An Imperial IPA from Oskar Blues Grill & Brewery
A+ / 4.75
look: 4 | smell: 4.5 | taste: 5 | feel: 4 | overall: 5
Look – A calm looking beer. The strong head bubbles like the top of a pancake ready to be flipped. The body of the beer has the tiniest lines of carbonation lazily heading upwards through the murky golden liquid.
Smell – Just a single solid nose-blast of hops. No more, no less and 'tis glorious.
Taste – Be ready for this one or it will end your taste buds. It comes riding a horse of hops to kick you in teeth with flavors rich and sweet, once your teeth are demolished the flavor train will then go on to compress the sides of your tongue with the bitter citrus of righteousness. If you think the assault is over it is a mere reprieve until the final thrust to back of your mouth. You thought swallowing would end the attack? You were wrong. The aftertaste of dry, crisp justice pervades every square inch of the inside of your mouth while the 10% ABV volatizes it way up your unsuspecting sinuses into your nasal cavity. Eventually you'll be gasping for air just to end the ecstasy, unless you're a masochist for pleasure and decide to venture another sip.
Feel – It's a mouthfeel without end, boasting the longest aftertaste of any beer in recent memory, and I'm fine with that because I don't want it to end and it just feels like I'm absolutely getting my money's worth.
Drinkability – This is one of my favorite beers around, in one of my favorite styles, and it comes in a can so it stays just as fresh as can be. WIN.
Serving type: can
Reviewed on: 10-03-2010 22:56:25