Hey everyone, my apologies for not having posted a museum review in a while. You see, I've been interning at the Nashville Zoo and haven't had a chance to scope out to other institutions. The good news is that in the downtime between interviewing visitors, I've managed to read some awesome books and comics about science, so that's what we're going to talk about today.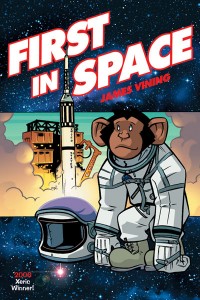 First in Space
Writer: James Vining
Artist: James Vining
Publisher:  Oni Press
$9.95/96 pages/Black and White
All summer long I'd been hearing about chimpanzees in the media, so now that the weather's changing, it seemed fitting to close out the season with one of the greatest chimp stories of all time. As one might expect from a book titled "First in Space", this is the tale of the first living being in space, a chimpanzee with the rather unassuming name "Ham". I know, I know, just one letter off… In the late 1950s and early 1960s, the United States was lagging behind the USSR in the Space Race. The Soviets had already launched Laika (a story also available in comic form) into earth orbit, and the Americans were looking to jump ahead by successfully launching a creature into space — and successfully recovering the live specimen.