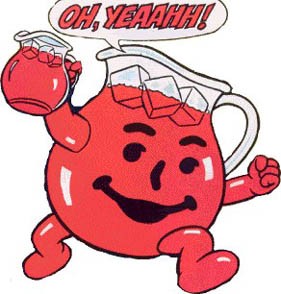 Kool Aid continues to spread joy even after the sugar fueled mania of childhood summers have faded into memory while sipping more sophisticated beverages.  Crafters around the world build vast networks so they can ferret out and barter for that one elusive color which, of course, is only available in some small town in the middle of nowhere USA.  You heard me, I said color.  You thought mango berry blast was just a neato flavor?   Staining pristine lilly white fibres with magical liquids feels so wrong and yet… just so right.
This means that today the Acid Queen brings you acid dyes.  There are lots of nice acid dyes out there on the market (Jaquard being the Cadillac of crafty dyes), but they have some serious safety issues to consider.  Kool aid is food safe, pet safe, and kid safe, so it allows for a wider range of applications for the beginning dyer.  Kool aid contains colorants and a whopping dose of citric acid that when combined with heat, creates a lightfast, washfast fibre, yarn, or cloth.
There's one condition though, it only works on "protein" fibres like your own hair, wool, cashmere, buffalo, alpaca, etc.  The key component present in all of these is keratin.  Keratin has a –NH2 functional group which is protonated in acidic solutions.  The protonated group becomes –NH3+ which of course now has a positive charge.  Did I mention the dye molecules are negatively charged?  Opposites attract, dipolar and hydrogen bonds form, and before you know what's happened your yarn is red.
Just to make sure it still works, I dyed an uncharacteristically pink skein just for you PaleoPals.  I call it Pink Strawberry Lemonade (too much testosterone in the Paleocave…). There are lots of great tutorials out there if you want more guidance, or just give it a shot and see what happens.  Mix with enough water to cover one packet of drink mix for each 3oz of fibre, no sugar needed.  Throw the works in the microwave for ~2 minutes and the deed is done.  Use caution with hot liquids and steam.  Be careful not to agitate the wool too much or shock it with cold/hot water (I'll cover felting/fulling next week).