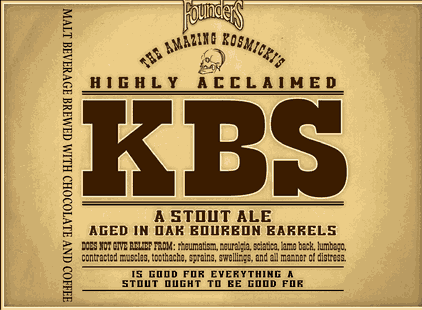 This blog has been very science-based of late but our show is also about something else: beer. This can no longer be neglected. To that end, my pal Jesse and I partook of the Founders Kentucky Bourbon Breakfast Stout. And yes, we had it for breakfast. Below are our reviews of the beer. We used the system established by the website Beer Advocate, of which we are both members. (If you too are a member you can check out our profiles at grovejesse and rjhaupt, respectively.) Hope you dig this slight change of pace!
P.S. Be sure to let us know in the comments if this is something you'd like to see more (or less) of!
Jesse's Review:
A / 4.3
look: 4 | smell: 4 | taste: 5 | feel: 4.5 | drink: 2.5
Look – Blacker than the blackest night, blacker than your soul, a gaping void from which no light escapes nor enters.  It's bordering on a lampoon at this point.  It's that moment in the room that's so intensely filled with passion and composure that everyone busts up laughing.
Smell – Spicy and angry with me.  I think I disrespected it's mother somehow.  Like chicory in my coffee.
Taste – Abrupt and to the point.  Has all the intensity of a hard liquer but with a stouty smoothness that cuts through the burn.    Completely absent are the chocolate airs that have become so popular among the stouts of today.  This stout unappologetic about being a stout.  Aftertaste is reminiscent of an ashtray filled with fine cuban cigar butts and warm brandy.
Mouthfeel – Cagey.  It hits your entire mouth all at once.  No cavitiy is safe from the encroaching sting of stouted hops.  It is electric.  At the same time, there is a fine, smooth stout making it's way down the middle of your throat amidst the hoppy burn.   Like riding a tobogan in warm, warm clothing on a painfully cold day.
Drinkability – My own drinking habits tend to a significantly more mild drink on the day to day basis.  It's a delicious experience, but not something I could do more than once a year.
Serving type: bottle
Ryan's Review:
A+ / 4.55
look: 4.5 | smell: 5 | taste: 4.5 | feel: 5 | drink: 3.5
Look – Practically black with a very light head, tiny carbonation bubbles fighting their way through thickness. An intimidating void.
Smell – Aroma hits you even as the glass sits on the table. Smells rich and sweet, like fresh-ground coffee and cocoa without the abject sweetness of a mocha. The notes of bourbon linger in the background.
Taste – The first note that hits is a surprising tartness, which is indicative of it's 70 IBU rating, but it is immediately followed by the sweetness you expect from this kind of beer. The coffee flavor brings up the rear and finishes very mildly leaving a pleasant carmel aftertaste. Gets a much stronger bourbon character once you let it warm up to room temp.
Mouthfeel – Perfect. It's velvet on the tongue. If it weren't for the taste you might not know it was there.
Drinkability – The only reason this rating is so low is because you have to drink it at breakfast. You just have to. Any other time of day and it wouldn't be a breakfast stout. However, the kind of mornings for which you need a breakfast stout are limited so the drinkability is necessarily a bit low. Definitely not gonna give you the same buzz as a cup of coffee.
Serving type: bottle