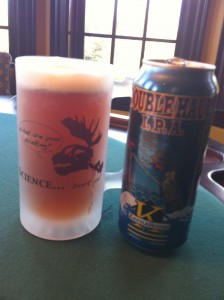 Randy H. asked a question in this week's show that has spurred me to action! Namely, how can he keep track of all the cool brews I (and the other Paleopals) bring to the table each and every week? His question specifically asked about Episode 23 – SHARK WEEK! which by some neural anomaly I actually remember. I had a Gordon Ale by Oskar Blues, which I also brought for our guest. Bad news, Randy, they've stopped making it. Or at least are making it by different name now.
However, this is but one small example, and I simply don't have the time nor inclination to listen back through entire catalog of episodes to remember what drink I had when. So I don't have a perfect solution for Randy, but I have a solution which will have to suffice. That solution is called Untappd.
I've written about quirky social media platforms before, but Untappd has quickly become one of my favorites. It's like FourSquare for beer. Basically you search the beer you are drinking, (if it doesn't exist you add it), and if it does then you check into it, add a venue, add a rating, add a comment, send a tweet, whatever. I love it because I'm a statistics nerd, and now I can finally keep track of what beer I drink when.
Do I really drink more IPAs than anything else? Do I have a brewery I drink from more often than others? How often do I have a new beer on Thursdays? These are just some of the questions Untappd can help you answer.
I'm a fan of other beer sites like BeerAdvocate, but I tend to think they cater to the beer snob over the general consumer. Untappd truly feels like it's for the masses. There's no judgment for slumming it with something cheap and cold in a can.
But these are all reasons I think you should consider using Untappd, what if you don't care to and just want to know what I'm up to like Randy asked? What are your actual options?
Well you could just join Untappd then "friend" me. I'm cool with that. But I also generally post my during-recording updates to twitter and Facebook, so you can connect with me there as well. I'm also going to try to start including links to my Untappd updates in the show notes too, lest you think I'm not doing my part.
Unfortunately I'm the only member of the show currently using Untappd, and I would think it might be a lost cause to try and drag the others into the fray, but if you care to let them know by e-mailing Paleopals@sciencesortof.com, complaining on twitter / Facebook, or leaving a voicemail at 312-Paleopals (312-725-3672).
If only they'd export my info to a spreadsheet for some critical analysis.
Photo courtesy of Dr. Bruce Haupt. (Mug from our store.)